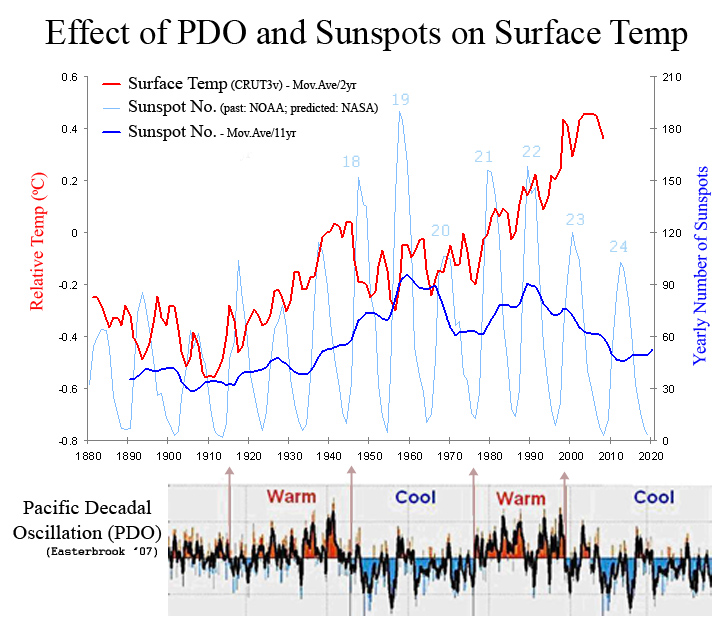 In this graph, we have both Sunspot Activity and the Pacific Decadal Oscillation (PDO), a significant oceanic current, plotted against resultant global temperature. Is there a correlation and perhaps even causality?
I compiled the source data from pro-Global Warming sources (eg NASA and the Hadley Centre – data) to err on the less controversial side.  It sums up the inter-play between the major ocean current, the PDO, and the sun's interaction on global surface temperature.  This is only part of the story, naturally, but very significant forcings into the global temperature model.  However, my conclusions to the data would be different to the pro-AGW (of course, they largely ignore these very significant forcings)
Over the last century, whenever both the sun is active and the PDO is in a warm phase, such as pre-WWII, then there has been significant Global Warming. However, at times these forces have conflicted, such as in the post-war era of the 50s and they can largely cancel each other out. Resulting in stable temperatures. More recently, in just the last 10 years, the sun has been fairly active, but was neutralised by the PDO turning to a cool phase. This stalled any further warming and perhaps could be seen as a slight cooling. Most importantly, whilst this Sun and Sea hypothesis accounts for recent temperatures accurately, the Climate Models did not.
Thus, looking at this evidence, it's plausible that whilst sunspot activity is the primary driver of temperature over the last 300 years of Global Warming, the oceans have acted as a modulator of this overall trend flexing it in the short-term.
Are we in for Global Cooling?
Look at 2010 on the graph.
Sunspots – gone. (and the solar min is actually delayed to perhaps 2011/2 according to latest NASA predictions.)
Less Solar rays = High Cosmic Rays
High Cosmic Rays = lots of cloud seeding nuclei
Clouds = less incoming solar rays (unproven but plausible mechanism)
Conclusion: Cooler Weather
The PDO is going into a cool phase
Cooler water is coming to the surface of non-equatorial, Pacific Ocean (the largest body of water in the world and thus a significant forcing on global temperature).  This means that the heat transfer at the water surface with the air is reduced.
Conclusion: Cooler Weather
The "sun and sea hypothesis", if significant, would suggest we have some global cooling ahead of us.
However, this is an multi-decadal affect, and so may take a couple of years to hit… Though, looking at current global temperatures for the last year, the change may have started.