Who do you, and perhaps more significantly, should you vote for? Are you firmly in the Left, as opposed to Right, wing of politics? Or, like me, do you swing both ways depending on the circumstance? Can you actually pigeon hole yourself anyway? Well, to make this possibility more of a reality, try this "Political Compass TM" test. In addition, I will examine the test's validity and illustrate, by way of the controversial, Chilean, ex-President, Pinochet, how it's hard to be truly subjective in such an emotive topic as defining one's political persuasion.


What is this new, proposed "Political Compass"?
The old, one-dimensional categories of "Left-wing" versus "Right wing", are perhaps overly simplistic for today's complex political landscape. There is perhaps a need to add another dimension to the definition of your political persuasion; add a social dimension (Authoritarian vs. Libertarian) to the current, economic one (Left vs. Right). By adding the social dimension you can distinguish Stalin, who was an authoritarian leftist, whereby the state is more important than the individual, from Gandhi, who was an libertarian leftist, a believer in the supreme value of each individual. By looking at the diagram below, top left quadrant, you can see that while the former involves state-imposed, arbitrary collectivism, the latter, bottom left quadrant, involves voluntary collectivism at regional level, with no state involvement. Thus, two Left leaning individuals who happened to have had fairly different opinions in reality are clearly distinguished from one another. The question of when exactly Stalin and Gandhi actually filled out this survey, we shall just ignore…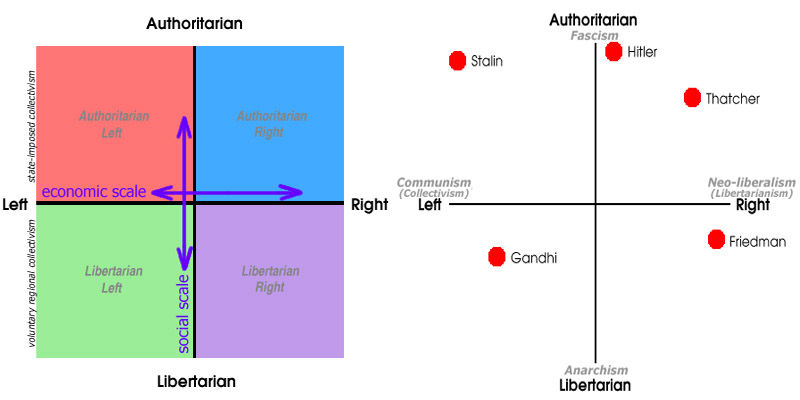 Discussion
Are the survey's questions appropriate?
In general, I'm a bit sceptical of surveys… most are based on rocky and somewhat debatable assumptions. Well-designed surveys have an aura of their own and create a mystique of certainty around themselves. Thus, they can be more dangerous than useful, as poeple tend to take their conclusions as gospel when really they are only as good as the simplifications that defined them. It's true, studies can be insightful, but at the same time it is wise to acknowlegde their limitations.
To illustrate my point, what is this particular "Political Compass" question getting at:
"The most important thing for children to learn is to accept discipline."
The answer, obviously isn't it peeps, is "Strongly disagree"? However, what is that telling us? I do believe in discipline. When the situation dictates, modern kids, especially, should be smacked more often by parents or headteachers. Discipline, though not necessarily Victorian in voracity, is learning civility to your fellow man. Kids need to learn and be reminded of that. It is not a purely innate behaviour. However, it doesn't mean that all parents and all kids have to be smacked all or, even, any of the time. It's not the "MOST important thing", but nevertheless still an important tool in the parenting book. Thus, my "Strongly disagree" answer provided no information on my beliefs- a pointless question?
Another question that seems erroneous:
"There are no savage and civilised peoples; there are only different cultures."
I don't believe all cultures are equal. Western culture is far more "civil" than north Ugandan, man-eating, rebel tribes. I don't call them "savages" though – just idiots. My "Strongly disagree" answer does not mean I'm a progressive who believes that all cultures are equal. It's just that we don't patronisingly and disparagingly consider them "savages" these days. There are strengths and weaknesses in all cultures, vive la difference, however, some have more strengths than others. Once again, my "Strongly disagree" answer provided no information on my true, underlying beliefs.
In general, the survey's questions were not adequate to classify me as – a proud libertarian, who nevertheless still believes in personal, social responsibility.
Is the survey Biased?
The survey, which intrinsically should be politically neutral, has perhaps a Left wing bias. This is seen both in the wording of the questions, as I've discussed above, and the website's own political discussion. I quote:
"You can also put Pinochet, who was prepared to sanction mass killing for the sake of the free market, on the far right as well as in a hardcore authoritarian position."
President Augusto Pinochet was no saint, agreed. It was likely that 2000-3500 were killed under his regime. But, comparatively, by Latin American standards, that is small fry. The number is actually remarkably low and he could lauded for succeeding in a complex, hostile, on the verge of communism environment with so few political executions. He was way better than the contemporary alternative: the all-controlling, self-serving, communist party of his predecessor, President Allende. Directly through Pinochet's libertarian, free-market reforms in Chile he turned his Allende's, 600% inflation, basket case economy into the only developed, OECD country in Latin America. The proof is in the pudding.
Allende adored Fidel Castro's Cuba and wanted to mimic it. As it happened, Castro killed at least 17,000 of his political opponents; significantly more than Evil Pinochet. If Allende had the chance to continue his pursuit of mimicking Castro's policies it would have very likely lead to a similar economic, and thus social, collapse. "Utopian" Cuba has wallowed in poverty, whilst the rest of the world has prospered: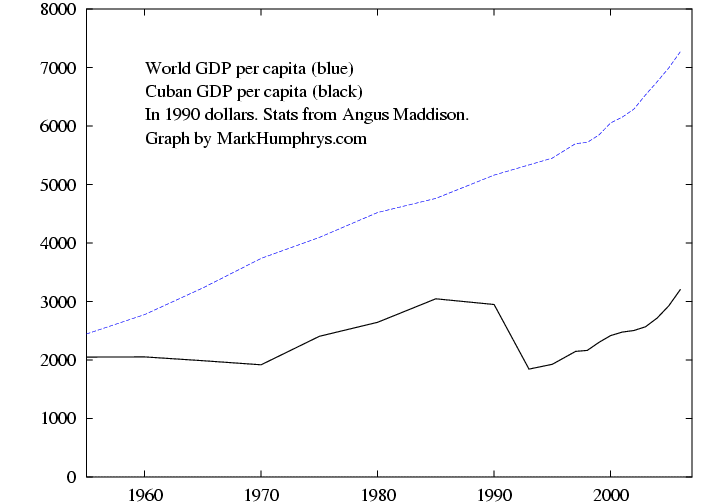 Stats from
Angus Maddison
.
You don't necessarily have to believe the commonly touted viewpoint; Pinochet was an evil dictator. This version was largely purported by Spain's, socialist government in 1996, when it successfully indicted him for mass murder. Is Pinochet really evil? Perhaps, but his regime was certainly better than the totalitarian, communist alternative pursued by Allende. If you want to learn more about, perhaps, the real Pinochet, read George Irbe's insightful piece. I quote:
"Allende failed to deliver Chile to the Soviet fold mainly because Chile had a mature culture of democratic politics, and a substantial middle class which treasured the traditions and institutions of that culture. It was the beleaguered middle class which called on the armed forces [i.e. Pinochet] to unseat the rogue, Allende, who was "outside the law." Nevertheless, it was a close thing."
Conclusion
With my nit-picking criticisms aside, I do actually like the survey and its premises. The 2D axis is more pertinent and descriptive than just calling someone Left or Right wing. It is a step in the right direction, but there's perhaps a way to go with their biased and sometimes redundant implementation. In my arrogant opinion, they could have had half the questions and twice the effectiveness per each.
My survey result
Having read this far into my commentary, where would you put me?
Well, in the iconic words of Family Fortunes: "And our survey said…"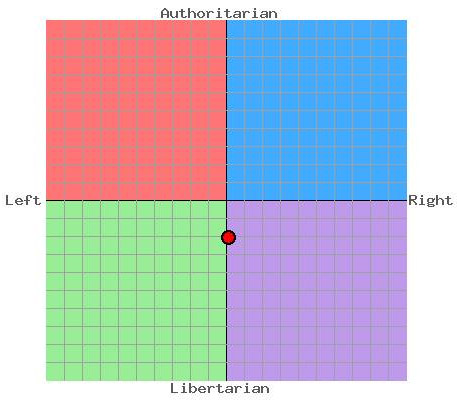 The Sydney office survey result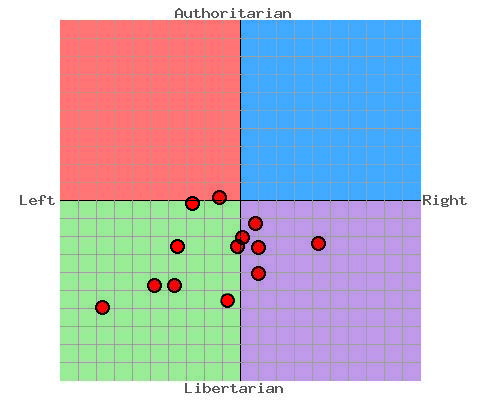 As you can see, we middle-class, university grad, Sydneysiders, aging from 25-55 are mostly Libertarian and perhaps a bit Left leaning.