A week on from the much anticipated and hyped U.S. election result, I have noticed a pretty unanimous, recurring theme from friends and colleagues: relief. Relief that it's over, but also great relief that Barack Obama won. Barack Obama is a charismatic and popular winner, but do you really know what he stands for? Who is Man Behind the Mask?

The man behind "Barry" Obama (his childhood name) is largely revealed by his own writings in his autobiography: "Dreams from My Father: A Story of Race and Inheritance".
He is a very popular figure around the world: not only did he win a second term in the White House, but, more importantly, my own Facebook feed of friends (inc. Arab ones) went crazy with rejoicing on hearing this.
The perhaps slightly, Inconvenient Truth that Obama, from 2009, and Democrat held Congress from 2007, have a woeful, economic record that is oft over-looked:
The most positive spin you could put on Obama's personal economic record is that it is en par with that of the one he inherited from George W. Bush. The Democrat lead Congress from 2007 started the deficits trend and thus their policies could be excluded from President Obama's record. In addition, the significant costs associated with the GFC stimulus package and the War on Terror complicate the analysis. However, 4 years of presidency and no improvement is hardly a good news story?
Barack Obama watching Homeland (allegedly)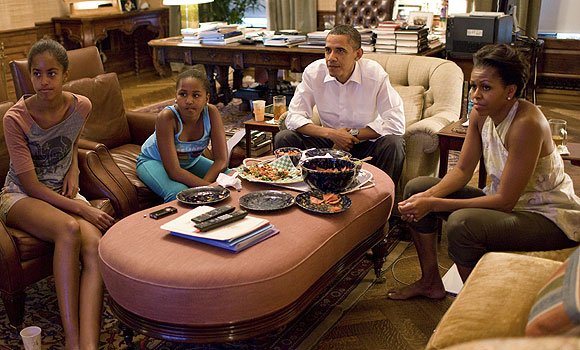 His favourite TV show is Homeland, and for a very good reason, it is good. I watched 4 episodes myself last night. It is also very sympathetic to the Muslin Jihadist cause as it is anti American ignorance; the "ignorance" being U.S. foreign policy. The War on Terror is the central theme of both series 1 + 2. The collateral damage from a drone killing (innocent kids being killed) is the primary premise that justifies the actions of a U.S. marine turning on his own country, joining the Jihad, and trying to blow up his own Vice President. What's this got to do with the price of bread? Well, Obama's favourite TV show is actually insightful and corroborates what he wrote in his autobiography. He doesn't really like America; definitely not the American Dream of the past 250 years. James Truslow Adams in 1931 stated this Dream as: "life should be better and richer and fuller for everyone, with opportunity for each according to ability or achievement" regardless of social class or circumstances of birth. This Dream is individualistic, opportunistic and meritocratic. If forces of oppression cross paths with this philosophy then the Dream is voraciously defended. When the U.S. invaded Afghanistan to ostensibly oust the repressive Taliban regime, they cited its abuses against women as one of the reasons for the invasion. The U.S. defended the individual rights and freedoms of Afghans. However, this can be construed as interventionism and, as the U.S. is a Western power, colonialism. To Obama, this type of "interference" into foreign affairs classifies the U.S. as the last vestige of modern neocolonialism. Barack Obama's dream is his "Dream from My Father" (Dreams from Barack Obama Sr.). He makes this very clear in his autobiography. This dream is to stop America from being the sole-remaining, interfering, global Superpower and instead empower the Developing World. Leveling the playing field is a good socialist dream, that, in a perfect, incorruptible, utopic world could easily and successfully be achieved. However, If you believe that governments run the lives of people better than people run their own lives, then Obama's Dream and vision for the American future may also be yours? Do remember, though, that there is a price, and in Obama's eyes a colonial debt, to be paid to achieve this aim. There will be a phenomenal redistribution of wealth from the Developed to the Developing World to balance the books.
For a more detailed, and definitely perceptive, explanation of the Man Behind the Mask, Barack Obama, check out this Forbes, lead article by the novel writer and film director, Dinesh D'Souza, from India. Discover the man behind the large persona who "rules" the world:
Article By Dinesh D'Souza
Appendix
In addition to the above article, "How Obama Thinks", which I believe sums up D'Souza's position on Obama well, you can view his recent documentary movie which expands his ideas further.
"2016: Obama's America" Trailer
Movie By Dinesh D'Souza (released Aug, 2012)